Arborist360 is the first company to own and operate the first remote control tree removal system in New Zealand, Based in Auckland, We know we are directly addressing a serious need for a safer and faster way to remove difficult and dangerous trees, no climber and ropes needed in most situations. Many of our clients choose us due to our outstanding safety record, sharp prices and ability to execute time sensitive projects on time, we are very efficient and comply with all the latest legislation and statuary requirements.
Tree removal Auckland.
It is unfortunate but sometimes trees need to be removed due to several reasons, your trees may pose a risk to yourself, your family, property or the public and may need to be professionally assessed by one of our qualified arborists.
Reasons for removing trees.
The tree might have outgrown the available space, dead or dying or simply planted too close to or interfering with power lines or underground services.
What to expect when using Arborist360 to remove your trees in Auckland.
Arborist360 own's and have mastered the latest innovative piece of equipment on the market today a knuckle boom crane with a grapple saw attached also known as a 'Tree-Mek', we don't have to climb as often to remove tree's our remote-control tree removal system, 'Tree-Mek' allow us to reach over houses, powerlines and buildings for increased productivity greater precision and unparalleled safety to remove difficulty trees in confined spaces, next to powerline and other obstacles, with ease greatly reduce the risk and clean-up process to your property, resulting in less time spend on site and an overall safer, more cost effective tree removal solution for Auckland's growing market.
Qualified arborist with over 10years industry experience. We have a safety-first approach to everything we do and provide a 100% satisfaction guaranteed service. We leave your property clean and tidy, and get the job done right the first time around.
Arborist360 work with the local council to check the protection and status of the trees before any work takes place, keeping up to date with the latest legislation regarding tree removal in and around Auckland.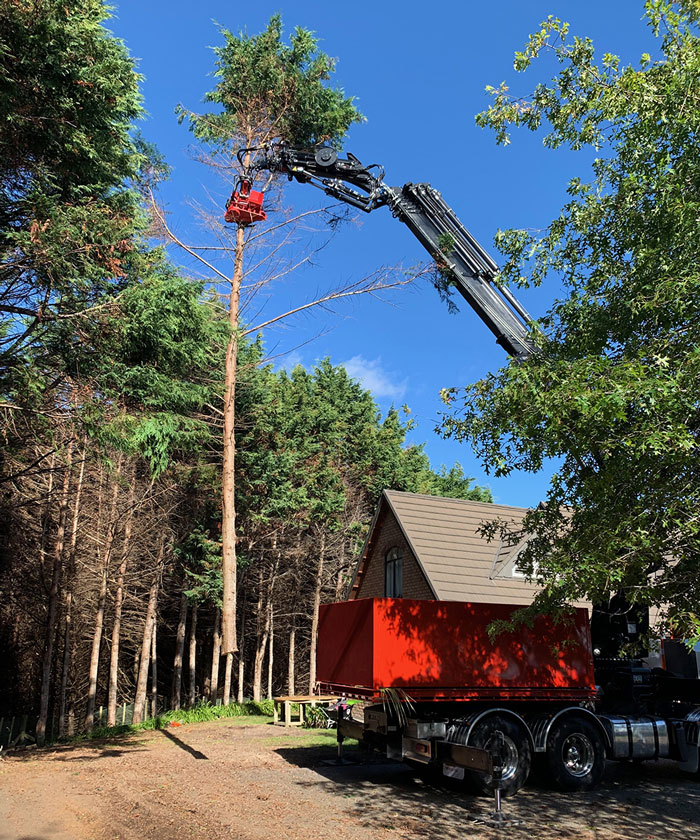 Arborsit360 have a safer way for you and a safer way for us to remove trees, leaving little to no impact, saving you money and reducing the overall risk. Give us a call today for a free no obligation quote to remove or assess your trees, in and around Auckland.
SERVICE AREA
We come to you. Auckland Wide.
EMAIL
info@arborist360.co.nz
Subscribe To Newsletter
Stay up to date with our latest projects and technology updates.
"So fast and easy. No mess was left at the property and we felt very confident throughout."

24/7 Emergency Storm damage clean up
0800 454 622